The New Personality Self-Portrait: Why You Think, Work, Love, and Act the Way You Do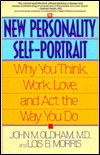 The 107-question test produces a personality profile in 14 dimensions of normal style, based on the American Psychiatric Association's DSM-IV diagnostic system. The chapters reveal how each style impacts all areas of your life and how others with each style affect you. It includes a thorough discussion of each personality style and its extreme--a personality disorder--and offers tips on how to change and how to decode the sometimes mystifying behavior of others. A classic, this book is now in its 31st printing.

IF BUYING USED, BE SURE THE PERSONALITY TEST INSIDE HAS NOT BEEN FILLED OUT.